Hairspray the Musical!
Hair-raising Hairspray the Musical!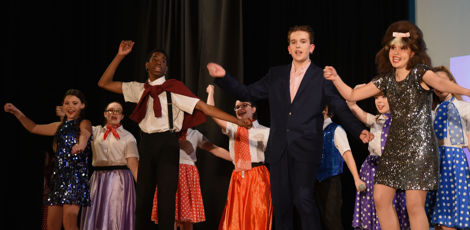 The roof came off the school building on two consecutive nights on 12 & 13 December when Hassenbrook students took to the stage for the school's first major production in years! The hair-raising, crowd pleasing, dance and song show performed to an audience of over 400 over two nights blew off everyone's socks (and shoes)!
This magical musical is set in 1960s Baltimore in the USA and centres on one girl's dream to win television talent show Miss Teenage Hairspray; it's based very loosely on real events. Although there are clear messages throughout of tolerance and understanding this production was full of fun, feistiness and dazzling stardust.
The fantastic whole school production involved over one hundred Hassenbrook students with the cast drawn from Years 7 to 10 who sang, acted and danced their hearts out whilst the backstage crew was made up of Year 11 students who worked on hair, make-up, costumes and lighting. To get everyone in peak performance condition, there was a matinee performance attended by 160 pupils from our partner primary schools.
Memorable songs, lively dancing and great comedy had the audience clapping along and joining the cast in all the right places. The set and costumes were bight and colourful, taking us straight back to the 1960s. Ellie Clarke, Year 10, took the lead as Tracy and gave an incredible heart-warming and stunning performance. There was also fantastic supporting performances from Stefan in Year 8, as Corny Collins, Holly in Year 8 as Penny, Kenan in Year 10 as Seaweed and Dulcie in Year 8 as Amber.
Ms Waters, Head of Music, and Miss Chattaway, Drama teacher, commented on the last evening: "What a night! The cast and crew were brilliant and we are proud of them all. They worked so hard, rehearsing after school twice a week since the start of the academic year – that's true commitment. We're delighted that so many primary school pupils came along as we're sure there were budding actors in the audience - we actually held workshops and auditions in the July transition week so that all Year 6 pupils joining us could also get involved and sign up before they started in September. We would like to take this opportunity to thank a few people – Mrs Taylor who worked with our cast on dance, Mr Williamson who helped our soloists and with music tech on the night, and Miss Mitchell who worked on the design of the sets and props."
We would also like to extend a HUGE HAIR-RAISING thank you to Rotary Club East Thurrock and Coryton Energy who sponsored our first major production!